The territory of
Tenuta ColFalco
The new Cellar, built in 2005, is located in Belvedere of Montefalco, on one of the most picturesque hills of the area renamed by ColFalco.
Thanks to its location, from here you can admire the cities of Assisi, Spello, Bevagna and Perugia.
The estate has a total area of 5.5 hectares dedicated to the cultivation of Sagrantino, Merlot, Sangiovese, Grechetto and Chardonnay vines, 2.5 hectares of olive groves with about 700 plants for the production of extra virgin olive oil and 3 hectares of arable land.
Total hectares

11

Type of soil

Calcareous and clayey


Vines

Sagrantino, Merlot, Sangiovese, Grechetto, Chardonnay

Type of olives

Moraiolo, Frantoiano and Leccino
Soil
The soil is clayey calcareous, with an altitude of about 370 meters above sea level, this is ideal for the vine cultivation.
Climate
September and October, often warm and sunny, are decisive for the cultivation of the vine; in the fall and spring the rains are concentrated.
Exposure
The main sagrantino vineyard is exposed to the east on a hillside where the sun rises, so you can get the best results each year.
Vineyard
Work in the vineyard is continuous and incessant to get every year the best productions. In recent years there has been a gradual reduction in the use of pesticides, replaced by alternative and natural systems.
Harvest
The harvest takes place strictly by hand as it once and begins in mid-September for the whites and extends until almost mid-October for the Sagrantino and concludes with the celebration of "Good End".
Vinification
For red wines fermentation with skins at controlled temperature, aging in large barrels and aging in bottle. For white wines vinification with cold techniques, aging in stainless steel and aging in bottle.
Area of production
Montefalco D.O.C.G. e D.O.C.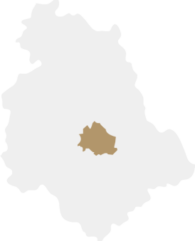 The production area extends over 19,000 hectares and includes the municipality of Montefalco and part of the territory of Bevagna, Giano dell'Umbria, Castel Ritaldi and Gualdo Cattaneo.
The area is predominantly hilly with favorable pedoclimatic conditions (siliceous-clayey and calcareous-clayey soils) that contribute to explaining the wine-growing vocation of the area.
In 1979 the DOC was recognized, while in 1992 the DOCG denomination was awarded to Sagrantino di Montefalco.